Where "Titus" came from...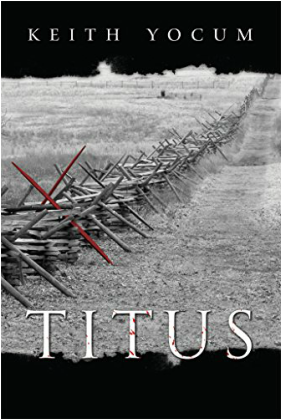 The idea of writing Titus was born out of an article I wrote for the Boston Sunday Globe Magazine that was published Nov. 22, 1992. The article was a first-person narrative of a visit to Gettysburg with my then 8-year-old son Michael to retrace the steps of my great-grandfather John W. Yocum, a private in Company I of the 149th Pennsylvania Volunteers. The 149th Pennsylvania Volunteers was involved in a pivotal engagement on the first day of the Battle of Gettysburg on July 1, 1863. The engagement roamed over McPherson's Farm, an unfinished railroad cut west of town and finally the streets of Gettysburg itself.

Pvt. Yocum was captured on July 1, was paroled and rejoined his regiment later and remained with the 149th until the end of the war.

Weaving fiction into historic events is a delicate exercise, especially when the subject is the U.S. Civil War. Re-enactors, hobbyists and historians are experts in many aspects of this conflict and understandably take great umbrage with inaccuracies.

I have taken the liberty of creating three fictional Union regiments in this novel – the 223rd, the 239th and 240th Pennsylvania Volunteers. These fictional regiments are loosely based upon the real 143rd, 149th and 150th Pennsylvania regiments immediately before and during the Battle of Gettysburg. Those actual regiments suffered heavy losses at the railroad cut west of town and in a retreat later through the town of Gettysburg.

Any resemblance to actual individuals in those three regiments is purely coincidental. The characters at the heart of this story and the murders described are fictional and do not refer to actual people or incidents.

A special thanks to the individuals who have kindly offered advice and direction for this novel, including Denise, Michael, Nicole, Robert, Joe, Lynne, Margaret, Wilf and several other volunteer readers.

I'd also like to thank author, publisher and historian Patrick Schroeder for reviewing sections of this novel for historical accuracy. Schroeder is currently the full-time Historian of Appomattox Court House National Historical Park, and the owner of Schroeder Publications that focuses on the Civil War. If the reader finds any inaccuracies in this novel it is safe to assume those errors occurred in sections of the novel that Schroeder was not asked to review.